April 23, 2014
Oh friends, you know those big, exciting things that have you smiling as you type and over-using exclamation points?! :) This is one of those times for me and I am so excited to share it with you!!
Let me tell you a bit about my friend Char, the driven + inspiring heart behind Char Co. I've always admired Char not just as an amazingly talented photographer, but also as a genius business-mind… she runs her business with such purpose and heart it's contagious! Char has a gift for igniting passion in other creatives, and has used this gift to inspire countless photographers through past workshops she has hosted at her stunning studio.
I was so honored when she reached out to me with the idea of collaborating together (along with Svetlana… another true talent and sweet soul!) to produce a workshop with the purpose of bringing all three of our unique strengths + passions together to empower other photographers in the industry. So it is with GREAT joy + excitement I announce this new venture I will be taking part in, the True to You Workshop, coming on May 21st, 2014!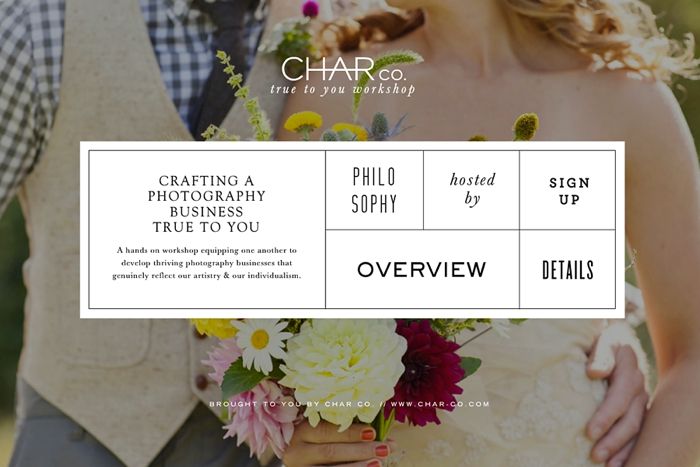 I LOVE the heart behind this workshop… a day focused on helping each photographer craft a business that is true to them and genuinely reflects their artistry and individualism!! I think Char put it best…

"Unfortunately….there is no I, 2, 3 formula that will turn our businesses into gold. BUT, there is principles, knowledge, understanding… that will get us started. On this special day coming up in May, we invite you to stop. Look inward instead of outward. Take a step back. Remove the clutter. Zero in on YOUR passion. Look at YOURself. Cognitively lay a solid foundation for YOUR business. Step by step. With intention. What you are doing now and where you want to be in a year from now. Let's build your business to be a reflection of what works for YOU. Our goal is simple… to ENCOURAGE. CHALLENGE. And EQUIP. The day will include topics revolving around building your business solidly on you, the artist. Taking it a step farther… we will talk about HOW to get from here to there. In practical terms. Building your business TRUE TO YOU and what you want it it to look like… broken down into step by steps… yes!"
Ahhhh how AMAZING does that sound?! My favorite part? The big day will end on a festive note with a styled dinner, featuring DELICIOUS food provided by Tomato Pie Cafe (YUM!), creative inspiration, and newfound friendship! I can't wait to sit down together in a beautiful setting to review our time together, as well as to anticipate what is to come going forward after such a powerful day of inspiration and learning!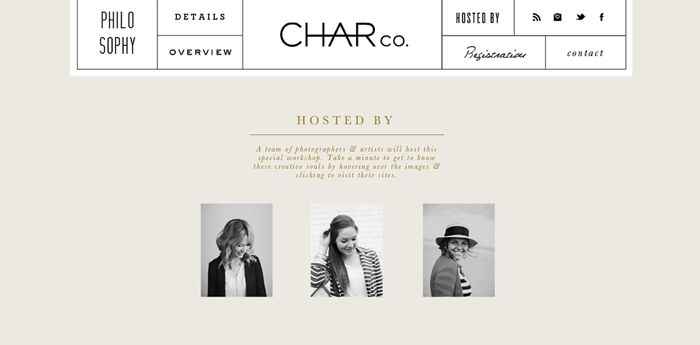 Char, Svetlana, and myself will each be speaking throughout the day on topics surrounding our unique strengths and passions within our businesses, and I am so excited about what this day is going to look like! There is so much goodness in store!!
Char featured me
on her blog the other week, and this is just a piece of what I shared…

"I believe, as photographers, there is so much value to be found in taking the focus off of YOU and what YOU can GET from your clients, and instead, focusing on what you can GIVE THEM. When you make SERVING, LOVING, and SPOILING your clients the foundation of your business, the results can't help but be powerful. I believe this because I've experienced it firsthand, and have seen time and time again the ways this business model and philosophy has propelled my business forward in growth!
Oh I just have SUCH a heart for this!! There aren't enough exclamation points to really describe it. :) This is what I know to be true… my relationships with my clients consistently inspire me, fill my heart with joy, and fuel my passion! And I WANT every photographer to experience this in their own business as well! I want it for you! Goodness, I am just so excited to share more with you in May and talk through how this can change the face of your business and revolutionize the way your clients talk about you to all of their friends. I wholeheartedly believe this has the power to not only PROPEL your business forward, but inspire your craft that much more!"
If this resonates at all with where you are and you're interested in learning more information about joining us next month, please feel free to jump on over to the workshop website to learn more information! Ahhh such an amazing day in store of sharing hearts and passions… we would LOVE and be so very honored to have you join us!!